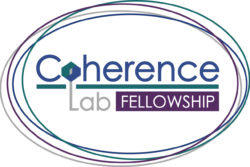 Fragmented design and education initiatives hinders our ability to deliver the education opportunities and outcomes we seek for all children. The Carnegie Corporation of New York's (CCNY) Education program recognized that the siloed and fragmented approach to grantmaking and implementation hindered the success of education reform. To consider the root causes of and improve the fragmented nature of our education system, CCNY launched the Integration Design Consortium and sought out leading innovators in the field to design new approaches to working in a more integrated, efficient and effective way.
Education First proposed, and CCNY funded, the Coherence Lab Fellowship (CLF) in 2017 to develop and field-test a practical solution to fragmentation rooted in helping education practitioners create a more coherent and equitable education system. The Coherence Lab Fellowship and NYC Coherence Lab, co-led by the Aspen Institute Education & Society Program (Aspen Education), Council of Chief State School Officers (CCSSO) and Education First, ran from 2017-2021. The existing Coherence Lab builds off the strengths of the Coherence Lab Fellowship and the NYC Coherence Lab, and will launch in spring 2022.
The Coherence Lab Fellowship took place over the course of two-years with teams of state education agency and local education agency team members. The Fellowship provided states the opportunity to build SEA-wide systems, structures and mindsets that enable coherence. Participating states were expected to identify an existing cross-functional strategy or initiative that involves multiple teams in their agency and that was not operating with optimal coherence.  In service of both coherence and equity, the Fellowship curriculum included exploration of issues of diversity, identity, bias and power.  State teams were expected to actively test new approaches and make changes to policies, processes, procedures and routines in order to create more coherence within and across the SEA (e.g., deprioritizing unaligned initiatives, co-designing with stakeholders, or implementing collaborative meeting structures). The Coherence Lab Fellowship launched two cohorts of states who participated between 2017–2021.
The NYC Coherence Lab provided many of the same supports and processes to a large local education agency, and was focused on NYC. The NYC Coherence Lab was a one-time professional development opportunity designed to help the NYC district team develop skills and capacity around the four elements of the Coherence Framework, and make progress on solving a critical problem of practice, including having a plan for continuing to work on their problem of practice at the conclusion of the NYC Coherence Lab. The NYC Coherence Lab took place over 26 weeks in 2021 and included bi-weekly coaching and team leads meetings, monthly 2-3 hour full-team engagements and a curriculum scope and sequence that was adjusted based on the districts team's goals and needs related to coherence.