Throughout school districts' responses to the pandemic, district leaders have continually come up against the rigidity of their one-size-fits-most systems and lack of forward-facing planning. The pace, intensity and scale of change required for districts to better serve all students, and especially students of color and/or students experiencing poverty, is far greater than most districts' current capacity to deliver in this context. While there is a great emphasis on quick technical support and impromptu communities of practice to help districts make smart investments today, there is a need that precedes the pandemic to help districts create and embed an equity driven theory of change. 
Committing to and creating space for innovation for equity requires a leader, like a Chief Innovation Officer (CIO), with the agility and a laser-like focus on addressing the challenges of systems-change work AND requires new, more equitable ways of thinking and working. The CIO has the critical role of creating the right conditions to embed innovation for equity in their district, helping the district navigate today's current challenges while keeping an eye on the future.
In 2021, made possible with the support of NewSchools Venture Fund, Education First sought to build off the Chief Innovation Officer (CIO) Toolkit and interviewed and surveyed district innovation leaders, national policy experts and parent advocates to test the idea of a national network designed specifically to increase the number of district leaders equipped and supported to strategically plan and implement systemic change in the name of increased equity. The result is the creation of a new network filling a current gap in the leadership development and cohort space—The Imagine Network. The Imagine Network is designed to support district Chief Innovation Officers, or those in similar roles, to equip them with the tools, knowledge, skills and professional network to lead with equity, and design and implement sustainable and innovative changes aligned to student and family needs.
It is an annually selected cohort of district innovation leaders that will operationalize the CIO Toolkit findings with equity as a through-line and create a coalition of the willing to lead district reform from within school systems. The Imagine Network will:
Build equitable and resilient systems—championed by a Chief Innovation Officer—utilizing user-centered design practices

Change how districts work together, internally and externally, with a focus on elevating student and family voice

Create the relationships and continued critical space for strategic thinking and collaboration with role-alike colleagues on innovations tied to equity
When Education First interviewed CIOs in the fall of 2021, data showed that they are eager to join the Imagine Network as a catalyst and accelerant for creating agile practices and innovative options.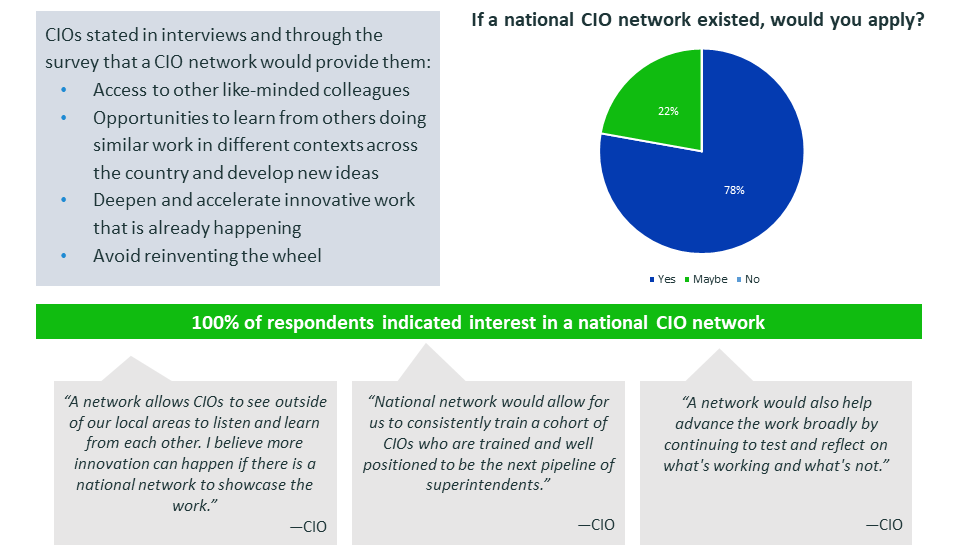 The CIO role, when properly focused and supported, serves as a critical internal change agent and creates a diverse leadership pipeline.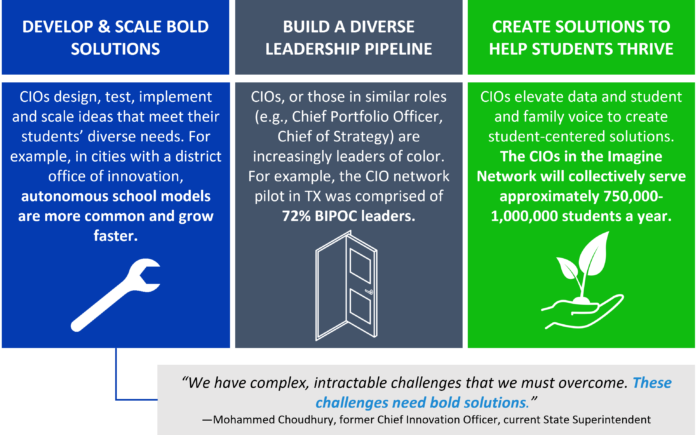 The network will occur on a one-year cycle where each cohort will have up to 15 participants. The network will feature three required in-person convenings and there will be optional quarterly learning sessions where participants can learn from a variety of experts in a virtual setting. Furthermore, CIOs will receive monthly one-on-one coaching on innovation work and equitable design as part of their participation in the network.
The first cohort of The Imagine Network will launch in the late spring of 2022 and we will release applications soon. In the meantime, you can reach out to Margo Roen to learn more or express interest in the first cohort of the network. 
We are looking for participants who:
Are currently a Chief Innovation Officer (CIO) in their district or who lead innovation work, with a prioritization for leaders in districts who serve a large percentage of students of color and whose districts have an equity-focused innovation agenda/commitment

Are committed to attending all convening and 1:1 coaching sessions, and complete pre-and post-work

Are equity driven–leaders who fundamentally understand that a district cannot push for innovation without centering equity and the important role that students and family members bring to driving the innovation agenda

Are invested in their growth, including improving their equity muscles and engaging in new practices to center students and families in their work

Have Superintendent support for attending the network