COVID-19 forced us all to make big changes, some of which are going to continue beyond the pandemic. This six-part blog series asked six different Family Math organizations how they continued to serve families during the pandemic, and what they'll keep moving forward. 
What is Family Math? Family Math is an emerging movement to promote math activities within the context of family relationships and everyday life, from the grocery store to the playground, during breakfast, bath time or bedtime. The practices help young children strengthen their math skills and feel enthusiastic and confident. It also empowers parents, organizations and early educators with knowledge, tools, and resources that help them feel excited about introducing and exploring mathematical concepts.
This is blog post four of six, and comes from Georgeann Herbert at Detroit Public Television in Detroit, Michigan. Their mission is to educate, engage, entertain and inspire through the power of public media. Learn more at https://www.dptv.org. 
How did your organization support Family Math before COVID-19?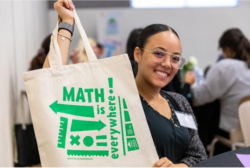 We have a lot of ready-to-learn content that was grounded in math and STEM. We were very focused on preschool and kids from age zero to five, as well as helping their parents with skills and strategies. We don't tell them how to parent, but we give them ideas about how to deal with common situations in parenting. One of the things that grew out of that work was Family Learning Workshops. The whole family would get together and participate in a project that involved math, science, engineering and literacy. Families would follow instructions and work together. We were also training people in childcare centers and Head Start programs to replicate those programs so that we were able to get wider distribution. 
How did you adjust and adapt for COVID-19? 
I will never forget Friday the 13th, 2020. March 13 was when orders came down from the governor to shut down schools. We saw what was happening, so my team came in over the weekend and we brainstormed how to support parents who would need to keep their kids engaged in learning. On Monday the 16th, we launched the first of a daily newsletter that pulled assets from wherever we could find them. We organized it with science days or counting days, for example. The message throughout: "Let's build good memories of this time. This is a unique opportunity." We also convened 25 educators who joined a call every day to tell us what they were seeing with parents, teachers and the state. 
For our in-person events, we converted to virtual. Even virtually, families would form social networks with each other and then they would support each other. We were able to pivot our direct service into a virtual environment, which started to populate all kinds of things that other organizations were doing to serve families.
What were some of your organization's bright spots during COVID-19? 
The newsletter was a bright spot, which ended up being distributed throughout Michigan and Ohio, through state superintendents, and with other public television stations. Through our conversations with teachers, we started working on equity and the digital divide. For many families, their only digital device was a cell phone. Those conversations created the Michigan Learning Channel. It's a broadcast channel for all the public television stations in Michigan and gets into 95% of homes over the air. The legislature gave an appropriation of taxpayer dollars to launch the Michigan Learning Channel in January 2021 in all six public television stations in Michigan. We are now all collaborating. Part of the funding allowed each station to hire an engagement coordinator, who are now hitting the field and talking to teachers, districts, and parent groups. They're learning that teachers are using the Michigan Learning Channel content in math and literacy in their classrooms and assigning it to their students. 
We also launched "Math Mights," a math program for kindergarten through 3rd graders which explains math concepts. Each animated character represents a different process for solving a math problem. We're hearing from parents who now understand their child's homework. Or a senior citizen who makes a cup of coffee and watches "Math Mights" because it exercises the brain. We also included Michigan teachers in developing "Math Mights" so that the program demonstrates best practices and pedagogy for teachers. 
What changes will you keep as you move forward? What are you looking forward to post-COVID? 
We're committed to sustaining the Michigan Learning Channel, and we're considering how we can use it to accelerate learning so kids can get to where they ought to be. We know that's not a one-semester thing. It's going to take awhile. It also offers an opportunity for remote learning for snow days. We're considering what role the Michigan Learning Channel can have as an educational entity, preparing young people and their families for new careers and new jobs. There are so many jobs in Michigan that are available because people just don't have the skills because adults aren't at the right level of competence for math and reading. 
It's been some of the most fun work of my career. There's this sense that it really makes a difference.