COVID-19 forced us all to make big changes, some of which are going to continue beyond the pandemic. This six-part blog series asked six different Family Math organizations how they continued to serve families during the pandemic and what they'll keep moving forward.
What is Family Math? Family Math is an emerging movement to promote math activities within the context of family relationships and everyday life, from the grocery store to the playground, during breakfast, bath time or bedtime. The practices help young children strengthen their math skills and feel enthusiastic and confident. Family Math also empowers parents, organizations and early educators with knowledge, tools, and resources that help them feel excited about introducing and exploring mathematical concepts.
This is blog post six of six, and comes from Maile Hadley at Zeno in Seattle, Washington. Zeno works for racial justice in the development of math skills. Learn more: https://zenomath.org/.
How did your organization support Family Math before COVID-19?
Family math is what Zeno does, what we've done since our inception. We start early and reach children ages 3 to 5 by leveraging our Zeno Game Kits to create positive and fun math experiences for the whole family. Our games align with early math learning trajectories and introduce early learners to foundational math concepts. Zeno is committed to making race a non-issue for children learning math, so we publish our games in 10 different languages and represent our families' races, ethnicities, and cultures in the product design.
Before Covid-19, Zeno supported family math through our work with community partners across the State of Washington. We understand that reaching families requires trust and consistent engagement, so we rely on community partners who have better access to families with greater frequency. We honor their experience and knowledge of their community and truly believe that our work is more effective and efficient because of our relationship.
We worked on-site with our community partners to integrate Zeno's 5 Practices into their existing services through in-person workshops, events, and regular site visits. Our team provided direct coaching and professional development sessions which connected math to literature, racial equity, social-emotional learning, and more.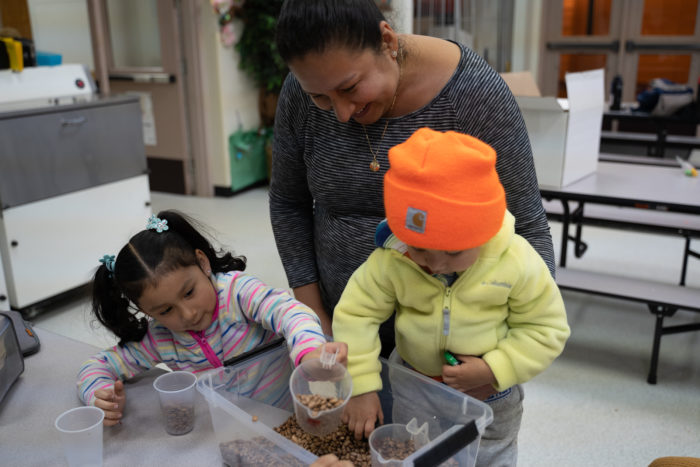 We also sought to create spaces where parenting adults, community partners, and math loverscould connect with like-minded individuals and learn new practices for inspiring a love of math in young children. Our marquee regional event, MathFest, brought hundreds of families together for a single day of math fun and activities. Additionally, we hosted monthly Family Math Parties to create regular opportunities for families to connect, learn, and spread their love of math. Together these in-person family-focused events and support we provided to community partners allowed Zeno to play an active role in organizing and growing the family math movement in Washington State.
How did you adjust and adapt for COVID-19?
First, we started by reaching out to our partners to understand better how they planned to continue working with their families. They identified specific needs for delivering educational activities in the home and supports needed for parenting adults who would be leading these activities. Like most organizations, we moved our in-person work to virtual settings and developed new competencies in facilitating our trainings through video conferencing. However, the most exciting innovations took place in the work we can now do directly with families.
We leveraged our staff and in-house creative talent, which normally designs our games, to create new animated video content. From circle time videos to game demonstrations, we pumped out shareable and easily accessible content via YouTube, specifically designed for families. We also leveraged our website to catalog activities and math games beyond our Zeno Game Kits so that parents and partners could access a wide variety of ways to engage in family math during the quarantine. Before Covid-19, volunteers would help us produce and package our games, and we'd distribute them through our partners. Covid-19 forced us to navigate the logistics processes of producing, packaging and shipping our games directly to families.
Additionally, we got creative with maintaining our movement-building work by engaging families through social media campaigns where everyone shared their "Mathy Moments." Even though we were apart and couldn't meet in person, we were still together, and we could still inspire each other through our love of math and learning. We also hosted virtual family math nights where parents could interact, and our staff could answer questions about our games.
What were some of your organization's bright spots during COVID-19?
Our partners provided the brightest spot by sharing videos of kids playing the games and providing tremendous feedback on all of the adjustments we made to support them. When COVID-19 first hit, we considered pausing our programs and services as it seemed like our partners possessed an ever-growing list of concerns to address. However, they made it extremely clear, having educational materials in the home that parents could facilitate was essential during the pandemic. We are so grateful to support them and their families and play a part in their children's education.
All of the innovation COVID-19 forced upon us resulted in a dramatic increase in the number of partners we could serve, leading to us reaching about 6,000 families during the pandemic. And, for the first time in Zeno's history, we now possess a channel and means to reach families directly through our website and digital content. Producing high-quality video content in-house has truly opened new doors for our work and our ability to spark joy and inspire a love of math.
Lastly, we are grateful for all the new work opportunities that COVID-19 provided. We saw our relationship with existing partners evolve into new forms. One example of this is a grant we received to work with a specific neighborhood. We connected directly with the school district to train teachers directly and started shipping games to them.
What changes will you keep as you move forward? What are you looking forward to post-COVID?
Many of the shifts to virtual and online engagement showed us it's possible to expand the reach of our small but mighty organization. We plan to double down on our video content strategy and expand our ability to ship games directly to families. These new strategies make it possible for Zeno to reach families beyond our home state of Washington, and we welcome inquiries from potential partners nationwide who want to inspire kids to love math. While we plan to bring back in-person trainings and events, we will maintain virtual options as it makes it possible to reach more partners and, subsequentially, more families.
I think we all miss being in community with people. A video can only capture so much of the joy, enthusiasm, and magic we witness when working with partners and families in person. We look forward to seeing families laughing and growing as math people together. We plan on using this time in the near future to play-test new games with families and to host focus groups where we can learn from our partners and families how we should evolve next.