This blog is part of a series detailing best practices and key considerations for setting up a high-quality virtual academy, based on research conducted by Education First. This research included a wide-range of sources, including expert interviews from implementers on the ground and research-based best practice. The series discusses: centering the voices of stakeholders at the margins, components of a strong academic strategy and how to build culture and connection in a remote environment. You can see the other blog posts here and here.   
We all remember how the school we attended when we were younger made us feel. Did we feel supported, encouraged and connected to our friends and teachers? Or did we feel isolated and alone? A school's culture, based on the values and supports the school prioritizes, determines how students feel when attending school. Despite not taking place in a physical building, virtual schools should still have a distinct and palpable culture that is predicated upon connection and well-being. By creating policies and practices that allow for meaningful connection between school staff, between staff and students, and across staff, students and families, virtual academies can ensure the holistic well-being of the school community, which in turn allows students to thrive academically, socially and emotionally. 
When creating a virtual academy, districts need to consider the following three action steps to help cultivate culture and connection in a way that establishes a school culture not defined by a school building:
Create a vision for school culture. 

Identify policies, strategies and supports that will build the desired culture and support the well-being of students and staff. 

Specify a process for assessing the effectiveness of implemented policies and strategies.
Set the Vision
A vision will not only help districts explicitly define the underlying beliefs and values of their virtual school, but also sets the tone for what staff, students and families can expect. Any future decisions the school makes related to programs, policies and supports should be aligned with this vision of culture and connection. 
1. Create a vision for school culture. The first step in creating a strong school culture and building connections is to draft a vision for what the virtual academy will look and feel like for students and staff. To create this vision, keep in mind the following suggestions from CatalystEd:
Bring together district leadership, virtual teachers and support staff

(e.g., guidance counselors, social workers, etc.) to discuss the virtual academy's guiding principles for supporting students and staff

Ensure the vision incorporates the needs and voices

of students and staff at the margins

Consider sending out a survey to families

to understand the mental health needs and any special circumstances or accommodations of their students and how the virtual academy could support those needs
Valor Collegiate Academies in Tennessee created a
Foundational Framework
that lays out their vision for their school community. This includes the foundational belief that relationships are fundamental building blocks of their culture and therefore their school commits to building healthy, meaningful relationships. Their framework then details the mental health and well-being aspects of their school vision, such as creating a school that encourages students to feel compassion for themselves and others, and that brings students joy by connecting school activities with students' values. While normally implemented in person at their schools, Valor worked to continue to embody the Foundational Framework beliefs in a virtual environment. For example, they engaged in live mentor check-ins twice a week and scholar Circles took place every Friday via Zoom.
Operationalize the Vision
Once a vision is in place, schools need to determine which programs and policies will support the desired school culture and create a plan that outlines and operationalizes the vision. 
2. Identify policies, strategies and supports that will build the desired culture and support the well-being of students and staff. As districts seek to address the needs of students and staff, there are a variety of levers they can pull to strengthen connections and provide proper mental health support. Mental health and well-being support is especially important given the impact of the COVID-19 crisis, which has put additional strain on communities. Districts should consider the following levers: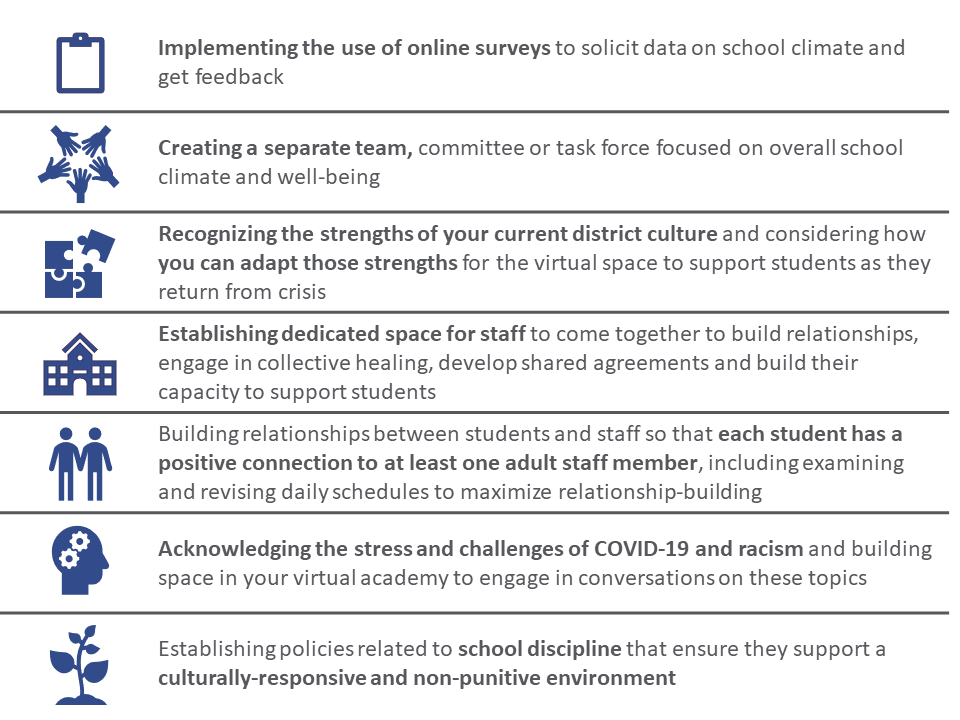 Some additional considerations as districts explore decisionmaking around mental health and well-being include:
How can the virtual academy identify the range of health and well-being needs of students, and provide them with or connect them to effective, culturally-rel

evant support?

What culturally-relevant, asset-based screening tools and strategies will the virtual academy use?

What does a trauma-informed virtual academy look like that meets the needs of students and staff?

What are the global supports for all students compared to targeted supports for specific subsets of students?

Will the district implement an SEL curriculum in the virtual academy?
3. Specify a process for assessing the effectiveness of implemented policies and strategies. Outlining a process to assess the effectiveness of policies and strategies outlined in the plan, and monitoring progress is essential to ensuring that the school culture and climate remains supportive and that the implemented plan is meeting the virtual school's vision for school culture. The assessment process should include analyzing existing data (e.g., school climate, attendance, engagement, and direct feedback from students, families and staff) to determine which existing programs and practices have been most effective. It is important when establishing the systems for data review, reflection and planning to build in a regular cadence for pulling data, and identify the staff member(s) responsible who will ensure strong data practices, professional development and support aligned to the needs identified by the data.
Assessment
Monitoring
Discipline
Disparities 

Consider

this checklist

from the National Center for Safe and Supportive Learning Environments which helps identify practices and policies related to discipline, communication and safety that could be retraumatizing for students and families. 

The

Roadmap for Reopening School

suggests disaggregating the data by categories such as race, socioeconomic status, language learner status, special education, etc., to uncover disparities in how students experience different policies and strategies related to culture, climate and mental health. 

EdResearch for Recovery

suggests that strong information-gathering and information-sharing protocols are necessary for proactively monitoring the school climate. You can also consider hosting occasional office hours or town halls that are agenda-free and provide an "equally accessible space where leaders can make themselves available to hear people's concerns" about school culture and climate (

CatalystEd

, 2021).
Both students and staff thrive in a school environment that sees them and cares about their holistic well-being, which is ultimately determined by the values and policies related to school culture and connection. By reflecting on what school culture should look like, and outlining policies, strategies and supports, districts ensure that their virtual school's culture is a priority and reflected in a range of school decisions. And ultimately, a positive school culture and healthy connections between staff and students will create a strong school community that is engaged and academically successful. 
Citations