During Hispanic Heritage Month, we are spotlighting some of our team members from our Latinx Employee Resource Group. Derek Niño, a Senior Consultant at Education First, shares some reflections in honor of HHM and his experiences.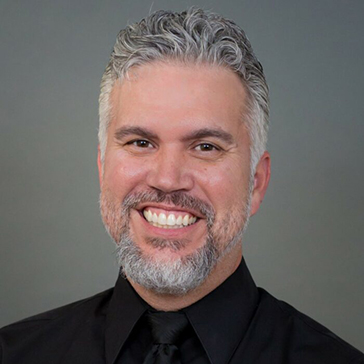 Can you talk about your Hispanic heritage? How do you celebrate this month?
My dad is from Uriangato, Guanajuato, Mexico, and my mom identifies as Croatian, but I used to say "I'm a Mexican boy!" when I was little, so I most closely identify with my dad's side of the family. Mexican heritage means the sites, sounds, and smells of abuelita's house, where I'd have tortillas and frijoles and mole and hang out with my primos. It means watching in awe as my abuelito shared family stories with us on the back patio. It means being fixated on the "ñ" in my last name and being frustrated that I'm "Nino" in most databases despite living in the 21st century.
During HHM and other months celebrating marginalized groups of people, I reflect more deeply on the contributions of those groups. I think about the contributions Aztecs, Mayans, and others made to botany (like corn) and mathematics (like the concept of zero). I also think about how the United States depends upon the low-cost labor that Mexicans, Central Americans, and South Americans (and others) provide when they build our houses, pick up our trash, and grow and pick our food. I think they are the ones who should be celebrated.
Can you talk about your involvement in the Latinx Employee Resource Group at Education First?
Within the group, I help to brainstorm ways those in the firm who identify as Latinx can contribute and be recognized. I also help to think through how to advocate for those we serve in and around K12 education who identify as Latinx. To that end, I've been partnering with Dan and Bill H. to develop selling practices and resources with Latinx identity in mind. I should clarify that in this partnership role, I'm not only contributing my ideas but also serving as a liaison between the ERG and BD & A, bringing forward the group's ideas and advocacy in the process.
How does this group empower others who share a similar identity? What effect does this group have on the rest of the firm?
Within the firm, the Latinx ERG identifies contributions and lived experiences that should be celebrated and, at times, compensated. For instance, we've surfaced that being able to speak Spanish should be seen as an asset and that translation should be seen as a compensated skill as opposed to an expected service. Extending this a bit, we also identify potential tokenism when staffing projects that are Latinx-facing and might require someone who speaks Spanish. 
Externally, I'd like to think that we're currently contributing to business development & analytics with the focus on selling and increasing Latinx awareness among sellers. This, in turn, could help to see Ed First become the premier consulting firm and service provider in so many Latinx-facing initiatives: improved multilingual-learner education, especially in ecosystems that are ill-prepared to serve students adding English; better services for newcomer students, especially those who arrive in middle school where the time necessary to learn English is limited; and conspicuous SEL and trauma-sensitive education that keeps the effects of immigration in mind (since there's a good chance your family has a history of having to navigate the immigration system at some time if you identify as Latinx). This increased presence and service could lead to more partnerships with greater impact and more business opportunities leading to greater firm solvency.
Thinking about your work and our mission, how do you hope the work you do impacts Latinx students?
"I want the same thing for Latinx students and their families that I want for all students and families–equitable access to the highest-quality education possible, an education that takes their individual needs and identities into account while preparing them for life and life-long learning."
I further want these students and families to feel empowered to expect, if not demand, this highest-quality, need-and-identity affirming education. I also hope to work with individuals in education systems, from the classroom to the state and even national levels, to recognize the power they have to make a difference in Latinx students' lives. Without this parallel systems-level effort, I feel like the onus would be on Latinx students and families to advocate for the education they deserve, something they might literally not have the words for.
---
The Education First Latinx Affinity Group was established to: Create a safe space for Latinx EF team members where they can connect, deepen relationships, and discuss matters that are important to wellbeing, both personally and professionally.