During Hispanic Heritage Month, we are spotlighting some of our team members from our Latinx Employee Resource Group. Loren Sanchez, an Executive Assistant at Education First, shares some reflections in honor of HHM and her experiences.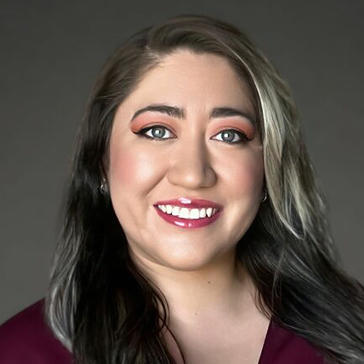 Can you talk about your Hispanic heritage? How do you celebrate this month?
Both of my parents and the rest of my family are from the rural town of Amatitán, Jalisco. I'm the only one in my family that was born here in the U.S., and growing up it was a struggle to understand being both American and Mexican. I grew up and currently still live here in Southern California, so I had the accessibility and opportunity to be on both sides of the border throughout my life and figure out what heritage meant for me. Here on the U.S. side of the border I only spoke Spanish at home and English at school, and became involved in not only my own development, but my parents' needs as well. During summer breaks my parents would take me to visit my Abuelita and other family in Amatitán, so I was raised in a similar way that they were, growing up with the same food, the music, the plumbing that was very different than in our home in California (flushing with buckets of water feels very normal for me) and having zero hot water to help you wake up for the day. I loved my summers in Mexico because I was surrounded by farm life and getting to learn the skills of a farrier. My dad wanted me to know Mexican history as much as I learned about U.S. history in school, so we traveled visiting different areas of Nayarit, Aguascalientes, Guanajuato, Puerto Vallarta and other cities in El Estado de Jalisco. 
I grew up dancing Baile Folklorico and embracing and loving how every region of Mexico has its own traditions and beliefs, just as every state in the U.S. has its own quirks. I also had a diverse group of friends growing up and I loved being able to share my traditions with other Latinx friends that weren't Mexican, because we felt safe enough with each other to share our foods, our shows and things that we were told not to talk about in school. I usually kick off HHM by celebrating Mexican Independence Day on September 16th. I've also used the month to reflect on other Latin American countries that have an independence day in this month. I also celebrate and reflect on Indigenous Peoples Day on October 9th. I think about not only the Indigenous communities here in the U.S., but I also reflect on my mother's side of the family and their Indigenous roots in Mexico. My mom and other family members have passed down romanticized stories of how they lost part of their identity and culture because of colonization.
Can you talk about your involvement in the Latinx Employee Resource Group at Education First?
I feel it's a space where I can openly share things that I otherwise probably wouldn't, especially since the topics that have come up are issues that have been present in past organizations I worked with. Being able to openly and safely discuss bilingualism as a skill, work capacity and resonating with the similarities of other members' upbringing and the work ethic developed due to that experience has been a nice thing to be a part of.
How does this group empower others who share a similar identity? What effect does this group have on the rest of the firm?
I feel that for the firm to have a funded space for Latinx individuals is empowering, given how few of us there are. I came from other organizations that didn't have a space for me to feel empowered or I would be dismissed and invalidated for sharing my lived experience because it wasn't similar to the decisionmaker's experience. Of the few topics I've been a part of, such as compensation for being bilingual in Spanish, it's the first time I have felt it really is a safe space. I see it as if we can have open conversations internally, then it only benefits the impact we can have externally.
Thinking about your work and our mission, how do you hope the work you do impacts Latinx students?
I grew up in the public education system and I had a horrible time. It was difficult to navigate and there were a lot of hurdles and obstacles to get the opportunity to be seen as more than what they categorized me as in their file. However, being able to work here at Ed First brings me hope that the work we do will help other Latinx students and families, especially those in low-income communities, to have a more improved experience than I did. I believe all students and their families should have access to high-quality education, but I know the difficulties that can come from first-generation Latinx students navigating their way through a system that sometimes doesn't feel built for you. I believe the work being done here at Ed First is going to continue redesigning and expanding its impact on Latinx students and other BIPOC students in and outside of the classroom.
---
The Education First Latinx Affinity Group was established to: Create a safe space for Latinx EF team members where they can connect, deepen relationships, and discuss matters that are important to wellbeing, both personally and professionally.