Featured Resource: Reform Support Network – Quality Evaluation Rollout Work Group
Client: US Department of Education
|
Location: Colorado, Delaware, Florida, Georgia, Kentucky, Maryland, Massachusetts, New Jersey, New York, North Carolina, Ohio, Rhode Island and Tennessee
Issues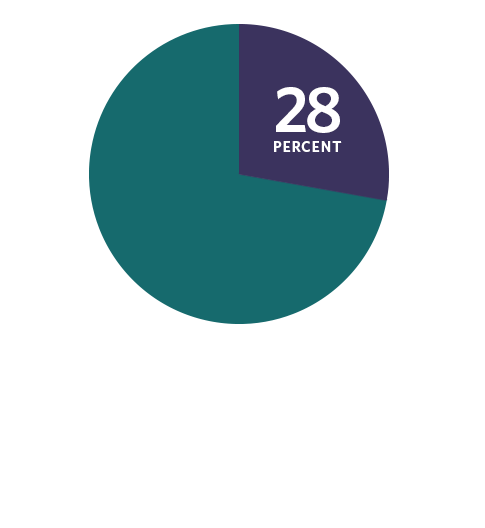 Outcomes
QER technical assistance helped Race to the Top states tackle critical evaluation implementation challenges including communications, data dashboards, rating accuracy and principal capacity.
States are poised to better implement higher quality evaluation systems to improve teacher development, instruction and, ultimately, student learning.
The Issue
Race to the Top grantee states set ambitious goals and timelines for the design and implementation of new evaluation systems that aimed to provide better feedback and support to teachers and display a more accurate picture of overall performance. In the early stages, however, some states struggled to implement their new systems with fidelity to this vision. Teachers and other key stakeholders too often saw the new systems solely as a means to fire poor performers, and the "widget effect," in which the system didn't accurately differentiate teacher performance, still prevailed. In one state, for example, 99% of teachers were rated "Effective" or better in the first year of the new system, while in another 97% were rated "Effective" or better. What's more: Too few teachers received high quality post-observation feedback. Too few principals received support beyond their initial training. States lacked data dashboards to manage their evaluation implementation as they struggled with the role they should play and the supports they should provide.
What We Did
Through the Reform Support Network's Quality Evaluation Work Group (QER), Race to the Top states came together to tackle these and other evaluation implementation challenges. Working with state leaders, Education First identified the most-essential content for successful evaluation implementation and recruited states to participate in each work group. Education First helped guide a group of roughly 10 states in a multi-year community of practice through a learning and improvement agenda delivered through virtual meetings, policy analysis and counsel and in-person meetings. Through these sessions, states grappled with evaluator/rater accuracy, communication and stakeholder engagement issues, evaluation data management and building school leader capacity to accurately observe instruction, provide fair and consistent ratings and improve feedback and teacher development guidance. We supported and facilitated the states to work together to analyze their initial evaluation data, identify state-specific strategies to address potential ratings inconsistencies, and develop action plans. Throughout, we helped states build relationships with one another that lasted beyond the work group. At every step, Education First worked closely with national experts to provide timely and helpful resources and ensure states had access to the best thinking in the field, drawing on expertise from KSA Plus Communications, New Leaders, TNTP and from independent experts including Corey Chatis and Larry Stanton.
The Outcome
Participating states indicated the workgroup helped them better support high-quality local implementation of new evaluation systems by stimulating new actions and system improvements. For example, the state with 99 percent of teachers rated "Effective" in year one implemented a data dashboard to more quickly analyze results and guide efforts, and also hired "development coaches" to support school leaders in implementing the new evaluation system. After a major convening focused on communications, nearly 90 percent of responding participants agreed that the meeting had helped them develop strategies to resolve specific communications issues they were facing. Many states have implemented the strategies included in the evaluation communications toolkit and, over time, have witnessed stakeholders better understand and buy into the new system. The 10 states' leaders also shared that the work group helped build a network of colleagues in other states whom they could lean on for ongoing partnership and support. While principal capacity remains a key challenge, states began to implement solutions such as targeted coaching and peer observation models to help.
* Tennessee Educator Survey 2015. Tennessee Department of Education. (Accessed on November 6, 2015)
Why It Matters
Educator evaluation systems, done right, are a vehicle and impetus to provide ongoing feedback and instructional support to teachers that will ultimately improve student learning. Evaluation systems are the cornerstone of many other teacher effectiveness reforms in states, including targeted and actionable professional learning, expanded opportunities for teacher leadership and recognition and encouraging our most effective teachers to work with the neediest students.
Project Documents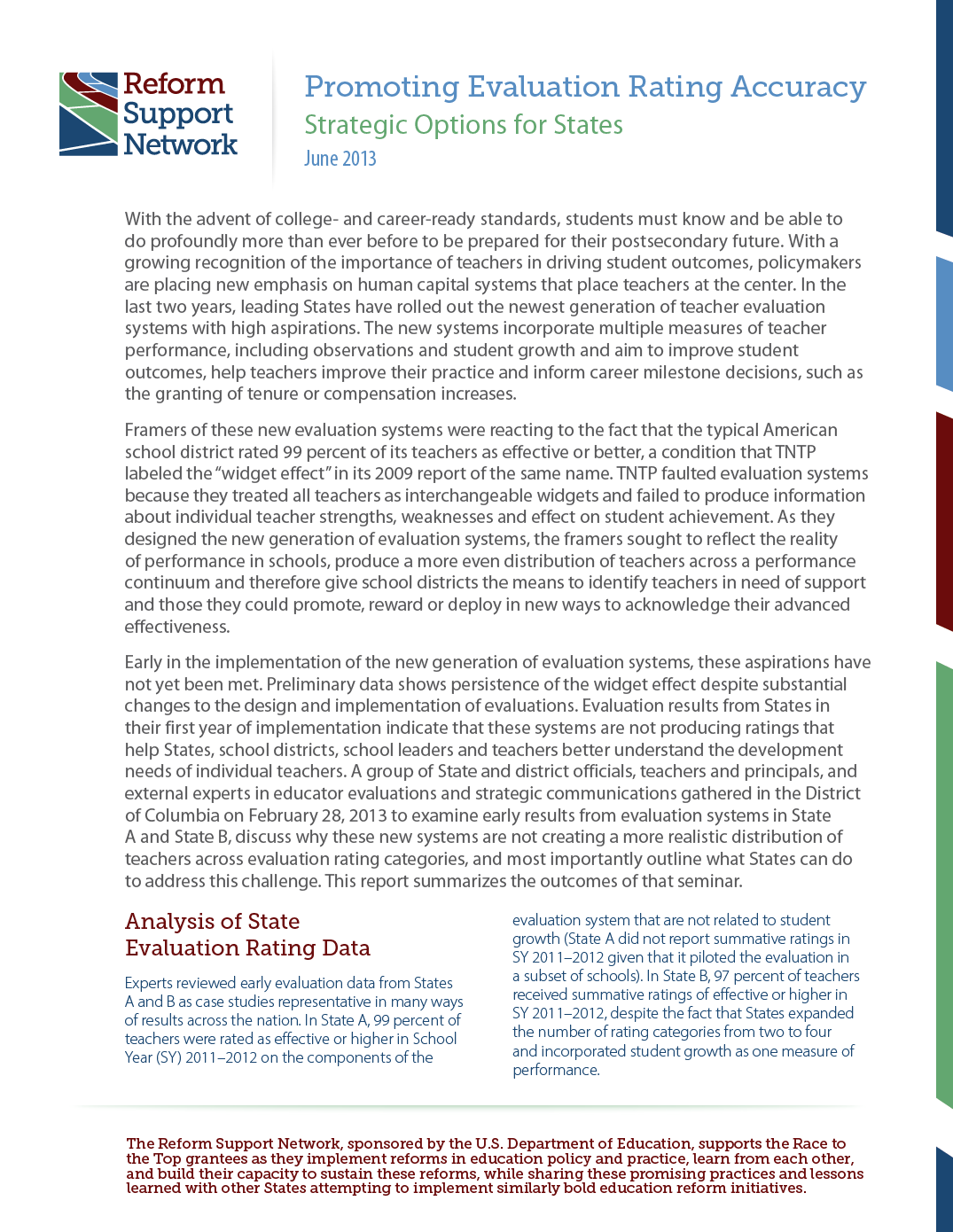 Promoting Evaluation Rating Accuracy: Strategic Options for States
You might also be interested in:
If states and districts want new evaluation systems to improve teaching and raise student achievement, they will need to provide the right resources and supports to guide implementation. This brief introduces and sums up the series, in which we provide practical advice to help leaders develop or refine their teacher evaluation and support systems.
This report provides our findings on how district and state leaders can improve feedback and...
Read more >
The primary purpose of any teacher evaluation and support system is to increase student learning...
Read more >