Featured Resource: Syracuse Opportunity Culture
Client: Syracuse City School District
|
Location: Syracuse, New York
Issues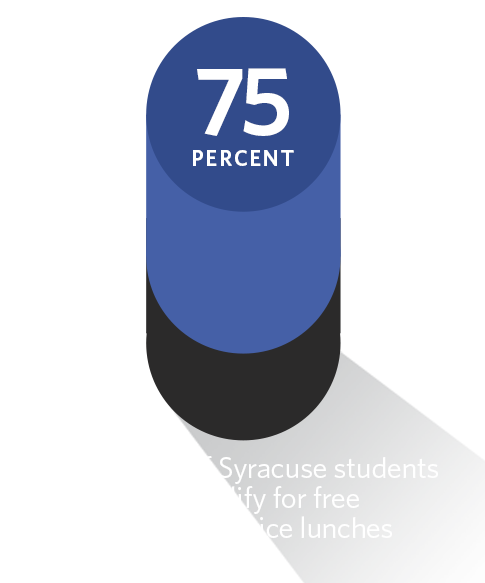 Outcomes
Syracuse is extending the impact of its most effective educators to reach the students who most need them in eight schools (with plans to reach 12 of 30 district schools).
In a survey of teachers in the first four Opportunity Culture schools, 75 percent agreed that their school's Opportunity Culture staff model has increased student achievement at their school.
The Issue
Struggling students need our best teachers. But persistently low-performing systems and schools encounter a myriad of obstacles to consistently make that match. Opportunity Culture is a school redesign approach that promises to help districts and schools extend the reach of the district's most effective teachers through innovative models like multi-classroom teacher leadership and elementary school subject specialization. To make that promise a reality, districts and schools need "whatever it takes" support on scheduling, budgeting, hiring and training.
What We Did
Education First partnered with North Carolina-based Public Impact (which developed the Opportunity Culture initiative) to support Syracuse to design and implement new school models to extend the reach of great teachers. Engaging early and extensively with the Syracuse City School District and Syracuse Teachers Association, we trained district and school leaders; facilitated educators through the school model selection and design process; and coached four initial schools—followed by a second cohort of four additional schools—through the implementation and improvement of their new designs. Along the way, Ed First drew on our experience in district human capital and union collaboration to help our partners tackle change management issues that may have otherwise derailed putting innovative Opportunity Culture ideas into real practice. Syracuse is the first strong-union school system to adopt the Opportunity Culture model.
The Outcome
Syracuse's ultimate measure of success will be improved student learning outcomes. In the short term: Current teachers have bought in, with 88% of those participating in the first cohort of schools agreeing that they have a shared vision for their school's Opportunity Culture staffing model.  New candidates are applying for the new leadership roles in high numbers: The new positions in the district's four Opportunity Culture schools attract an average of 10 applicants per new teacher-leader position. And, across the four initial schools, 1,791 students were taught in some capacity by an excellent English teacher in the 2014-2015 school year.
Why It Matters
Turning around low-performing schools and districts can't be done unless the quality of teaching and the working conditions in schools is improved. The Syracuse Opportunity Culture project has empowered educators to design new teacher leader positions that best fit their individual schools. Education First and Public Impact built a strong partnership with the district, teachers union and teachers and principals in the buildings to develop an approach that treats great teaching as the solution for highest-need schools and students.
Project Documents
You might also be interested in:
In 2015 the U.S. Department of Education announced that all 50 states would be required...
Read more >
In April 2015 we worked with the Reform Support Network to bring together leaders from...
Read more >