We are at a critical moment in public education in America as districts across the country address the dual challenges presented by COVID-19 and systemic racism. This fall, more than ever, district staff members have found themselves working collaboratively with educators, families and nonprofit organizations, to figure out the school environment and supports that students want and need. The systems change work required to reopen and rethink schooling has exposed the depth of district equity challenges—across access, quality, supports, and student experiences. Now that we are past reopening schools, we must rebuild systems with equity at the center. Doing so requires highlighting areas of need and leveraging community resources so that students are healthy, prepared for college and career and civic ready.
Education systems that were largely stagnant in the past have taken on enormous amounts of change and uncertainty, pushing past the status quo to try new things, conduct rapid feedback cycles and iterate. Although this work is important and necessary given the current moment and context, many districts find themselves struggling to balance the need for equity driven innovation and the day-to-day management. The Chief Innovation Officer (CIO) has the critical role of creating the right conditions to embed innovation for equity in their district, helping the district navigate today's current challenges while keeping an eye on the future.
In partnership with NewSchools Venture Fund and The Broad Center, we are pleased to announce the release of a Chief Innovation Officer (CIO) Toolkit. The CIO Toolkit was developed for those currently in, hiring for, or aspiring to be in a CIO role. The toolkit provides guidance and reflection questions to support districts that are creating the infrastructure to innovate for equity. Superintendents, district leaders and team members, school board members and the broader school community may find this toolkit a useful guide to understand why a CIO is a critical cabinet-level role and what should be expected from one.
This research-backed toolkit is designed to help districts, and CIOs, make strategic decisions about their needs. Through research with school, policy and national leaders, we've identified four core work streams, five essential competencies and four key mindsets of a successful CIO.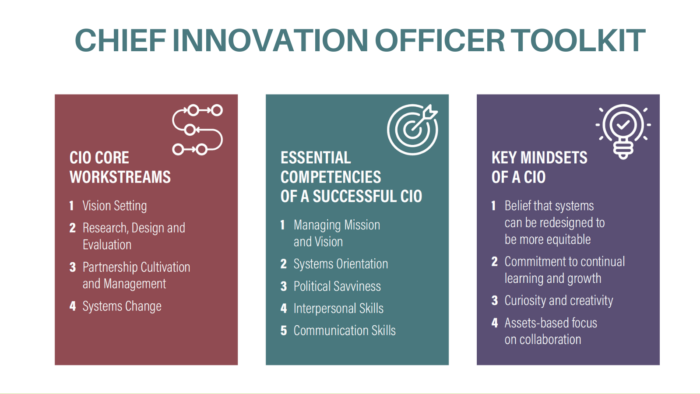 The toolkit also contains resources to help districts create, hire, rehire, and reflect on the role and its potential for impact. We are excited to release this incredible resource, along with a series of blogs from CIOs who are on the forefront of this work. Stay tuned for more!