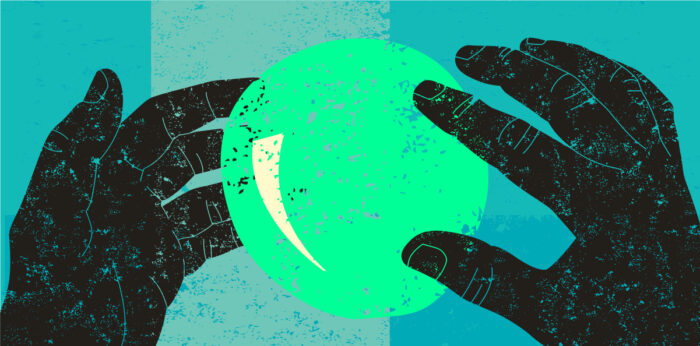 Never before has the need for social and emotional learning been so great in our students' classrooms. The COVID-19 pandemic was an unprecedented event that had a profound impact on all aspects of our society, particularly on the social and emotional wellbeing of both students and adults. Recent surveys indicate that 70 percent of public schools reported an increase in the percentage of students seeking mental health services since the start of the pandemic. Fifty percent of interviewed teachers attributed their desire to leave their job to factors related to the pandemic. Recent findings from the State of the American teacher and the State of the American Principal surveys found that about 33 percent of teachers and principals reported that they were likely to leave their current position by the end of the 2021–22 school year. Of these teachers and principals, most were unlikely to leave their job before the pandemic. And 31 percent of white teachers versus 41 percent of teachers of color, a statistically significant difference, reported that they intended to leave their position before the 2021-2022 school year ended.
Moreover, the pandemic has highlighted the longstanding inequities in our education system, stemming from systemic racism and inequality. And districts and states are seeking financial and programmatic support to address these needs. According to a 2021 market analysis by Tyton Partners, spending on SEL in schools and districts grew by approximately 45 percent from $530M to $765M between November 2019 and April 2021. Furthermore, a 2022 analysis of state ESSER spending plans found that nearly a third of local agencies plan to spend on social and emotional learning curriculum, materials or training. Additionally, more than a third of local agencies plan to hire psychologists or mental health professionals.
While districts most commonly use SEL-focused curriculum and professional development to address these needs, the growing awareness of the science of learning and development (SoLD) has led to the recognition that all learning, including SEL, occurs within a specific environment. Experts are beginning to distill SoLD research into frameworks and tools to help K12 systems leaders assess and improve learning environments toward new ways of thinking and working in the SEL space, with a greater focus on shifting adult mindset and practice to promote asset-based learning conditions in the classroom. Education First conducted a year-long research project in 2022 to explore these trends in the SEL field in partnership with 15 national organizations.
Some key findings from this research are:
Curriculum should be culturally dynamic and flexible enough to include local content and context and build on students' strengths and interests.

It should also support students to share their experiences, engage in their progress monitoring, and reflect on their learning to provide them with ownership and agency over their learning.

Adults play a critical role in creating inclusive and equitable learning environments

. It is imperative to invest in developing equitable, racial justice-oriented mindsets through content and pedagogical knowledge-building and critical self-reflection. Creating inclusive and equitable learning environments requires adults to view youth as experts and teaching and learning partners who play an equally important role in their learning and development.

Adults in schools need sustained professional learning and coaching that pushes them to interrogate their practice.

Professional learning should develop adults' capacity to talk about identity, build empathy, and provide opportunities for staff to model SEL with each other in an embedded and ongoing way.

Technical solutions alone are unlikely to have the greatest impact.

Curriculums, frameworks, assessments and other products and teaching tools can help meet educators' goals and objectives, and there is a range of options in the field to assess and improve the quality of school and classroom learning environments. However, creating the practice shifts needed to create inclusive learning environments requires deep reflection and dialogue among educators and with students. Programs and practices that focus on racial justice and related components like healing and liberation can create powerful adult mindset shifts. Promoting equitable learning environments rooted in racial justice requires intentionality, disruption and action.

Strong relationships amongst and between adults and youth are at the core of inclusive environments.

Organizations anchored in racial justice have developed unique approaches to relationship-building that have the potential to lead the field in new directions.

Organizations that approach their work from a racial justice lens attend to developing equitable, racial justice-oriented mindsets and practices in their staff.

 
Organizations with proximate leadership and staff bring a unique—and personal—passion and lens to creating authentic and meaningful relationships and promoting inclusive learning environments.

And spaces, safe from white supremacy and oppression, where youth and adults can have authentic, trusting and vulnerable relationships with one another allow communities to envision and develop plans for a more equitable future. 
Thank you to the Bill & Melinda Gates Foundation for supporting this research.
Interested in learning more? 
Join our upcoming webinar to learn more about this work!
April 6, 10a PT/1p ET: An opportunity for K12 district and school leaders to learn from and adapt strategies from Ed First's research on organizations rooted in racial justice who are working to shift adult behavior and/or promote asset-based learning environments. This webinar will feature leaders from three leading national organizations that participated in the research: Beloved Community, Kingmakers of Oakland and exalt. Register here.