Amanda is a talent- and organizational development-focused consultant working in the education sector at Education First, and Lily is the Chief People Officer at Silverchair, a platform company hosting content for scholarly and professional publishers. We're former colleagues who each served in the Talent function at Education First, and we are kindred spirits when it comes to our convictions about what it should feel like to work at a place. We follow the research about what conditions organizations must put in place for their people to do their best work, and we believe in the power of listening, empathy and staying curious as we navigate what work and the workplace means now, in 2021, and beyond.
Heavily driven by the pandemic, people leaders everywhere are being called upon to revisit even the most basic choices about workplace design. Everything we believed to be true about how to design and lead thriving workforces is being challenged. We have been tracking those conversations while at the same time implementing significant changes in our own workplaces. 
Because we are already living into these dilemmas and decisions, we have developed an informed point of view about the promises organizations and their leaders should be making to their teams and what accountability they should be expecting in turn.
In this three-part series, we will share what is influencing us most as we curate relevant resources and do this work ourselves. Our hope is that what we have learned will help accelerate your process and contribute to our collective wisdom about how organizations should be reshaping their work norms and practices.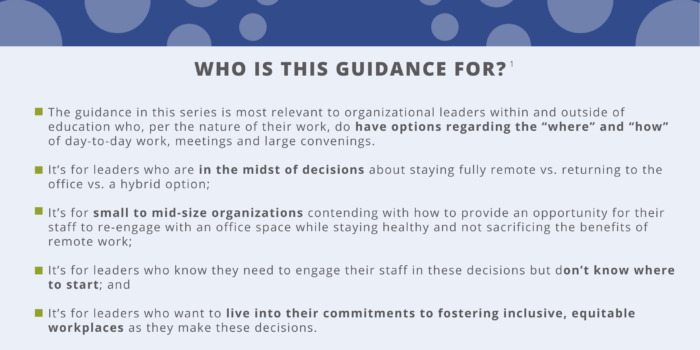 WE ARE NEVER GOING BACK TO WHAT WE DID BEFORE, AND THAT IS A GOOD THING
In 2020 we had to shift on the fly to working from home, with little warning or preparation. You and your employees spent a good part of the year making those adjustments. Now we are facing choices about whether and how to return to in-person work. But we don't need to shift on the fly this time; we can do it thoughtfully and deliberately. 
Although we don't know exactly what the future of the workplace will look like, we do know that we can't simply default to what we had before. In a recent article published in The Harvard Business Review, remote workplace expert Lynda Graton wrote, "[G]iven the astonishing speed with which companies have adopted the technology of virtual work, and the extent to which most employees don't want to revert to past ways of working, [executives are] seeing a once-in-a-lifetime opportunity to reset work using a hybrid model—one that, if we can get it right, will allow us to make our work lives more purposeful, productive, agile and flexible."
We couldn't agree more. The truth is, our pre-pandemic workplace norms were far from perfect. Employees struggled to balance personal and professional commitments and the type of flexibility we now accept as the norm was at a premium. Although we can now see how little sense it makes to require in-office work in the name of productivity, employers previously did not have a compelling reason to change.2
Having asked staff on a massive scale to suddenly adjust how and where they work, we have all come to understand that there are new viable possibilities for staying productive and engaged. And while the challenges of zoom fatigue, or blurring the lines between work and home are well documented, we also know that there have been many positive, if unintended, consequences of the shift. Employees do not want to lose the flexibility and productivity gains3 they have found, and so organizations that successfully transform their employee experience—starting with the rules and norms about where and how work gets done—will be positioned to win. Employers are already widely signaling that they will be embracing flexibility about how work gets done well into the future. You must as well, or risk demoralizing your team and losing your top performers, who will have choices about where and how they work. 
Here is an inventory of the good we've found and don't want to lose
Focusing on wellness. Organizations have broadly recognized that the relentless productivity of an employee who is working from home with no access to social outlets and limited emotional support comes at a cost.4

Not to mention the long-term toll of widespread personal loss and related trauma. Many employers have offered "COVID days" to allow people time away from work to find time for rest and to manage through life events.

Prioritizing DEI.

Organizations have also awoken to the vast racial disparity COVID has laid bare. As the pandemic has disproportionately impacted BIPOC communities, employers have deepened their commitment to ensuring equitable workplaces. This is most evident in the surge of new senior level DEI positions. As recently

reported by Gallup

, however, whether these commitments ultimately lead to productive change depends upon the willingness of leaders to engage in rigorous self-assessment, ground their efforts in concrete structures and plans, and maintain future momentum.

Integrating work and home life. Employees have been able to more fully integrate their work and home lives, becoming more available for their partners, children and pets.5

Where people previously felt like they needed to maintain separation between their home obligations and work, it has become normative to openly share personal challenges and acceptable for family members to make regular appearances on camera.

Greater authenticity.

As we have dropped the veneer of performative professionalism, we have deepened work relationships and built trust, which is essential as we continue to weather change and essential to

thriving workplaces. 

A smaller (carbon) footprint. As many organizations have interrogated their need for office space, they have been able to realize cost savings that have, in many cases, led to greater sustainability. As well, minimizing the need for office commutes has led to a meaningful reduction in carbon emissions.6
YOU NEED A HYBRID WORKPLACE STRATEGY THAT REFLECTS YOUR VALUES AND EMERGING BEST PRACTICE IF YOU WISH TO REMAIN COMPETITIVE 
The hybrid model is here to stay. If you want to retain your people and keep them engaged and fulfilled, you need a hybrid workplace strategy. What do we mean by "hybrid workplace strategy"?
A plan for how and when to use the physical space, virtual spaces and technology to enable the team's best work

A plan for the work norms that will enable employees to transition between work modalities without sacrificing quality work or relationships

An inventory of the artifacts (events, communications) that preserve and enhance your culture, and a plan for leveraging them

A change management plan for acclimating your leaders and their people to hybrid work

Perhaps just as importantly, a mindset shift like the one we heard articulated by Fran Katsoudas, EVP and Chief People, Policy and Purpose Officer at Cisco: "Work is not a place you go. It's what you do." 
"If leaders and managers want to make this transition successfully, however, they'll need to do something they're not accustomed to doing: design hybrid work arrangements with individual human concerns in mind, not just institutional ones." 7 
The work of designing your hybrid workplace strategy will require your team to ask and answer critical questions, such as:
Who are we and who do we want to be?

Designing your hybrid workplace strategy is an occasion to fully define—and, as necessary,

re

define—your culture. Whatever you decide to do, it must be consistent with and supportive of your identity as an organization.

What requirements should we have—if any—regarding when people come to the office?

How much individual and team level optionality should be allowed in how and where people work in the future? How should a team member's geographical location or vaccination status affect their work location requirements? E.g., if someone lives within driving distance to the office, are they subject to different requirements than someone for whom coming to the office would represent significant travel? In a world in which choice and options are paramount, how will we deal with the complexity they introduce?

How do we engage remote workers while embracing the benefits of co-location?

If some meeting attendees are in the office and others are remote, should we default to everyone being on video? How do we avoid alienating those who are not physically present while at the same time mitigating video fatigue?
When is co-located work a superior modality?

What are the activities that we will agree are so overwhelmingly better in person that we will come together to do them? Which activities are just as good—or better—when done remotely? 
What, if any, additional or different technology will people need to remain productive while working flexibly in the future?

What investments are you prepared to make to optimize for a seamless transition between work and home offices? How do you need to upgrade your current work space to accommodate hybrid work?



Stay tuned for the next in our series. 
In the two posts that follow, we'll take a deeper look at how to engage your employees in designing your future workplace while strengthening your culture and your business. We'll discuss and provide practical guidance on:
Post 2: Meaningful Staff Engagement in Hybrid Workplace Design. Engaging your non-executive staff meaningfully in designing your hybrid workplace strategy will lead to a more sustainable and equitable solution and a level of investment that fosters successful adoption and implementation. This post will provide practical advice on how to realize this level of employee engagement, including what Education First has learned about applying equity by design principles to manage through organizational change and what Lily is learning right now (as recently introduced in The Scholarly Kitchen) as she works with the Silverchair team to design their hybrid workplace. 
Post 3: Transitioning to Hybrid Workplace a Steady State, and Beyond. We'll focus on how to implement your hybrid workplace design and ensure that it remains relevant and adaptable. This will include how to prepare your managers to thrive in a hybrid environment, keep your people connected, support employee performance and understand when and how to address dissonance in communications and team dynamics.
---
Hybrid workplace terminology:
Co-located: Describes employees who work together in a physical location, which is usually an office space provided by their organization.
Hybrid work: Work that is completed through a combination of work in a formal office environment and work in a home office or other work location.
Remote work: Work that is completed outside of a formal office environment, usually in a home office. Also referred to as work from home (WFH).
Remote-first: An organization in which remote work is the primary modality.
Work from anywhere (WFA): Work that is completed outside of a formal office environment while embracing the flexibility to work in varying geographic locations and time zones. 
---
1 We recognize that the work of some organizations must happen in-person. This guidance is for organizations that have flexibility and options about where its work gets done. Finally, some organizations have decided to release all of their office space and go completely remote. This comes with its own set of operational challenges that are beyond the scope of this article, but related to which there is abundant guidance – e.g., the Steelcase Global Report on Changing Expectations and the Future of Work.
2 Not all employers are embracing and adapting their work norms. Morgan Stanley CEO James Gorman, for instance, recently announced that all New York workers, with few exceptions, would be required to work in the office after Labor Day.
3 On the point of employee preferences, this Future Forum post is particularly insightful.
4 In September 2020, for instance, NPR reported that nearly a quarter of people in the United States were experiencing symptoms of depression. Even before the pandemic, the mental health impact of working from home in terms of social isolation and inability to set boundaries was well understood.
5 The Washington Post reported in January 2021 that so many pets had been adopted from shelters, the supply is running out.
6 In March 2021, the journal Nature Climate Change published a study that found global carbon dioxide emissions in 2020 fell by seven percent compared to 2019.
7 How to Do Hybrid Right, Harvard Business Review