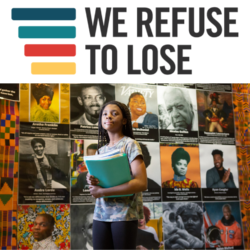 The We Refuse to Lose series explores what communities across the country are doing to improve outcomes for students of color and those experiencing poverty. The series profiles five communities—Buffalo, Chattanooga, Dallas, the Rio Grande Valley and Tacoma—that are working to close racial gaps for students journeying from early education to careers. A majority of these students come from populations that have been historically oppressed and marginalized through poorly resourced schools, employment, housing and loan discrimination, police violence, a disproportionate criminal justice system and harsh immigration policies.
Building on these powerful stories of community efforts, Education First produced a report and podcast about funders can effectively wield their power and privilege to support those communities they seek to serve. The report synthesizes concrete ideas and actions that grantmakers can take to act differently, thereby achieving different and more equitable results.
From early 2019 through early 2021, the Bill & Melinda Gates Foundation supported these five community partnerships and convened their leaders as a learning community. The Foundation launched this initiative intentionally as a learning body of work involving a cross-strategy team called the Community Investment Team (CIT). It supported Education First in launching the We Refuse to Lose series, elevating communities' experiences and stories of building a more inclusive and equitable world for young people.
We Refuse to Lose Podcast
Does philanthropy hold too much power and privilege to actually achieve equitable outcomes for the people it's intending to help? How can it wield its power and privilege for good? Building on Education First's We Refuse to Lose: Report to Philanthropy, this podcast is about how power and privilege show up in philanthropy. Listen to perspectives from current and former grantmakers with decades of experience in philanthropy between them as they discuss ways to radically re-think the way philanthropy shows up in communities. Featuring: Maeghan Jones (President and CEO, Community Foundation of Greater Chattanooga), Clotilde Perez Bode-Dedecker (President and CEO, Community Foundation for Greater Buffalo), Jean-Claude Brizard (President and CEO, Digital Promise); Sara Allan (Director of Early Learning and Pathways, Bill & Melinda Gates Foundation); and Joe Scantlebury (President and CEO, Living Cities)
Background on the Community Investment Initiative
We encourage you to watch the video below describing the larger Community Investment Team's initiative and visit the We Refuse to Lose website to learn more about the series.