COVID-19 forced us all to make big changes, some of which are going to continue beyond the pandemic. This six-part blog series asked six different Family Math organizations how they continued to serve families during the pandemic, and what they'll keep moving forward. 
What is Family Math? Family Math is an emerging movement to promote math activities within the context of family relationships and everyday life, from the grocery store to the playground, during breakfast, bath time or bedtime. The practices help young children strengthen their math skills and feel enthusiastic and confident. It also empowers parents, organizations and early educators with knowledge, tools, and resources that help them feel excited about introducing and exploring mathematical concepts.
This is blog post five of six, and comes from Susie B. Grimm and Frances Zazueta at the Public Media Group of Southern California (PMGSC). PMGSC tells stories that matter through original programs that reflect the diversity of their region and through the full schedule of trusted PBS programs. Learn more: https://www.pmgsocal.org/. 
How did your organization support Family Math before COVID-19?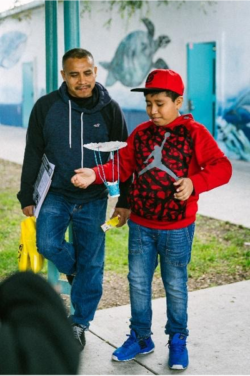 Since 2010, the station has taken on an Early Childhood Initiative in Southern California. That included a STEM program, an educator program, and more recently, a Family Math program. We designed sessions alongside our community, focused particularly in the city of Compton, which informed how the curriculum would look. One of the things that emerged was introductory workshops, which introduced families to a math concept, then provided resources so that the family could engage in home learning alongside digital content. We made it fun with PBS KIDS, including working with local actors. This became a series with other early learning agencies, nonprofits, libraries and school districts. 
How did you adjust and adapt for COVID-19? 
We worked to shift everything to engage virtually. Now we also had direct access to families' homes, which we hadn't seen before. We did assessments with families to try to figure out how to make virtual engagement work. We partnered with the Los Angeles Unified School District to help create a curated broadcast of their content to support families at home. We also built educator engagement through webinars that shared resources. We adapted the work with Spanish-speaking families, making sure they were comfortable with Zoom, creating bilingual interpretation, and offering content in their preferred language. 
Parents were also concerned with the social and emotional health of their children. We created programming to address this, including family story times. Children could talk to one another and talk to the storyteller. We created virtual camps during the summer of 2020, with opportunities for students to work together in a group, to get used to distance learning.
With each workshop, we included a component at the beginning where parents had an opportunity to self-reflect, check in with themselves, how were they doing. We also hosted some social and emotional workshops and resources for families. Families really wanted hands-on activities. 
Finally, we tried to connect families to resources. We have lots of community partners, and we could share if someone was doing a food drive or if other assistance was available, we could share that with families. 
What were some of your organization's bright spots during COVID-19? 
Out of the pandemic we realized that our content needed to be digital. We were planning and creating all of these resources that had just launched, all of our digital videos and activities and online, and now we're calling it self-paced online learning experiences. The goal is that this will become a digital parent academy. We're creating content in both Spanish and English. Families might not be able to come to an in-person workshop, but they can continue to access virtual components.  We heard from one parent that with the website and digital components, she felt more confident, more playful, more excited about math. Parents feel more confident in their abilities to support their kids at home. 
We're connected with many different partners—child care providers, home care, center-based providers, libraries, schools—and we were able to offer hybrid camps with someone facilitating online and some in-person. We tried to be really intentional and listen to what each partner needed. Families are resilient and they were able to adapt to this sort of new mode.
What changes will you keep as you move forward? What are you looking forward to post-COVID? 
We're taking a digital-first approach after the pandemic. We're still going to be in-person when we go back to "normal," but we also want to continue the virtual components as well. It allows for more access to families that might not be able to attend. We'll continue to create the content and support other organizations with content and resources. 
We're uniquely positioned to offer content through many platforms. We have primary content on television, we have a 24/7 channel, math-related content, and it's all online. People can download activities. We want to continue to do that, to figure out how to do it in a way that continues to serve families, to really engage families voices from the beginning. It's so important to have parent relationships.