Featured Resource: Core to College
Client: Core to College Network
|
Location: Colorado, Florida, Hawaii, Indiana, Kentucky, Louisiana, Massachusetts, North Carolina, Oregon, Tennessee and Washington
Issues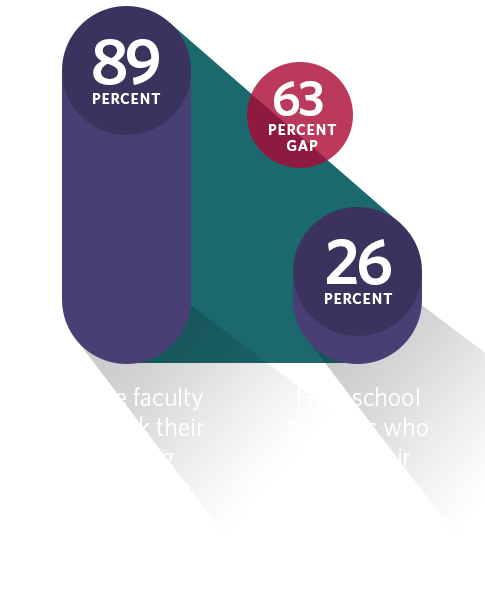 Outcomes
Nine Core to College states adopt a common definition of college- and career-readiness.
Higher education steps in as an advocate and champion when the Common Core or aligned assessments come under threat in Core to College states.
The Issue
Postsecondary institutions and faculty members are major stakeholders in the success of college-ready standards. The potential is tremendous: Students who show up on campus ready for credit-bearing courses don't require costly remediation and are more likely to complete a degree on time, for less money and fewer loans. The demands are significant, too: New academic standards require reforms in teacher preparation. College placement policies need to consider the results of new college-ready assessments if the "college-ready" designation is going to be meaningful for graduating high schoolers. These implications require extensive engagement and joint action between K-12 and higher education – two sectors not always known for working together.
What We Did
In 2011, in partnership with the Carnegie Corporation of New York, William and Flora Hewlett Foundation, the Lumina Foundation and the Bill & Melinda Gates Foundation, Education First developed the vision for a network of "Core to College" states, each of which would hire a dedicated Alignment Director to push forward on three goals: 1) A common definition of college- and career-readiness in the state, 2) use of assessments aligned to college-ready standards for placement, and 3) improved overall alignment and collaboration between K-12 and higher education. Education First designed the network, and evaluated proposals from states to join, provided extensive coaching to each Alignment Director, and hosted a series of convenings focused on topics like faculty engagement, teacher preparation alignment and sustainability. Funders and Alignment Directors partnered with Education First to help steer the network as state-level efforts confronted waves of opposition to the Common Core and aligned assessments. One state had to withdraw from the network as its state legislature repealed the new standards; others grappled with rethinking their entire alignment projects as their states withdrew from the two national assessment consortia. But the first two years of alignment activities (state-level convenings, roundtables and engagement) proved valuable for most of the states. As political fights erupted, higher education stepped in to play advocacy roles in ways they likely would not have if not for the work of the Alignment Directors, particularly in states like Louisiana.
The Outcome
Core to College became an organic network, with state leaders traveling to one another's convenings to present or to learn, exchanging sample agendas and placement policy statements, and identifying common needs (such as parent brochures in foreign languages about the college transition and assessments) and using Core to College as a venue from which to work on them. As a result, five states in the network – Colorado, Massachusetts, Hawaii, Oregon and Washington— are on track to adopt consortia assessments as a component of their higher education placement policy. Nine states – Colorado, Florida, Hawaii, Kentucky, Louisiana, Massachusetts, Oregon, Tennessee and North Carolina – adopted a common definition of college- and career-readiness. And the broader field took notice: The two assessment consortia, PARCC and Smarter Balanced, increasingly used the Core to College group as thought partners, sounding boards and intelligence-gathering, deriving major value from the growing expertise of the Alignment Directors. States outside of the Core to College networks have reached out to Education First to use materials developed for the network. Education First also partnered with the State Higher Education Executive Officers Association to publish a series of briefs describing an action agenda for K-12 and higher education partnership to increase student success.
ACT National Curriculum Survey cited by Libby Nelson, "The Common Core on Campus." Inside Higher Ed. May 3, 2013.
Why It Matters
The payoff for the difficult work of implementing college- and career-ready standards will come when high school graduates arrive on campuses throughout the country better prepared for credit-bearing college-level work – and thereby more likely to complete meaningful postsecondary credentials or degrees and improve the nation's knowledge capital. Students who can excel in their college courses without remediation are a major win for postsecondary faculty and institutions, and the K-12 field benefits from their help in protecting and realizing the promise of new standards.
You might also be interested in:
Thousands of people flock to the state of Hawai'i every year for its incomparable sun,...
Read more >
Every child deserves an equal shot at success in college, careers and life. To support...
Read more >
Education First designs meaningful, ongoing opportunities for organizations and individuals to collaborate through our expert...
Read more >