Choices and Trade-offs

Key Questions for State Policymakers when Selecting High School Assessments
Client: High Quality Assessment Project
The Every Student Succeeds Act gives states the flexibility to decide how to measure student success in high school. This guide—developed with the input of testing and state policy experts across the country and written by a former state assessment and accountability leader—is designed to elevate the trade-offs between using state- or nationally-developed assessments. The guide proposes a series of issues policymakers should investigate to determine which approach best matches state priorities.
This brief was prepared by Erin O'Hara in partnership with the High-Quality Assessment Project.
About the author:
Erin O'Hara has spent more than 15 years developing her expertise in state education policy. Most recently, Erin created and led the division of Data and Research as an assistant commissioner at the Tennessee Department of Education, working under Governor Bill Haslam and Commissioner Kevin Huffman. In that role, Erin managed the department's work on assessment, accountability, data quality and research. Prior to her role as the department, Erin served as a policy advisor to Governor Phil Bredesen, working as a lead on Tennessee's winning Race to the Top application.
For questions, comments or additional information about this brief, please contact Bill Porter, Partner at Education First.
Read the full publication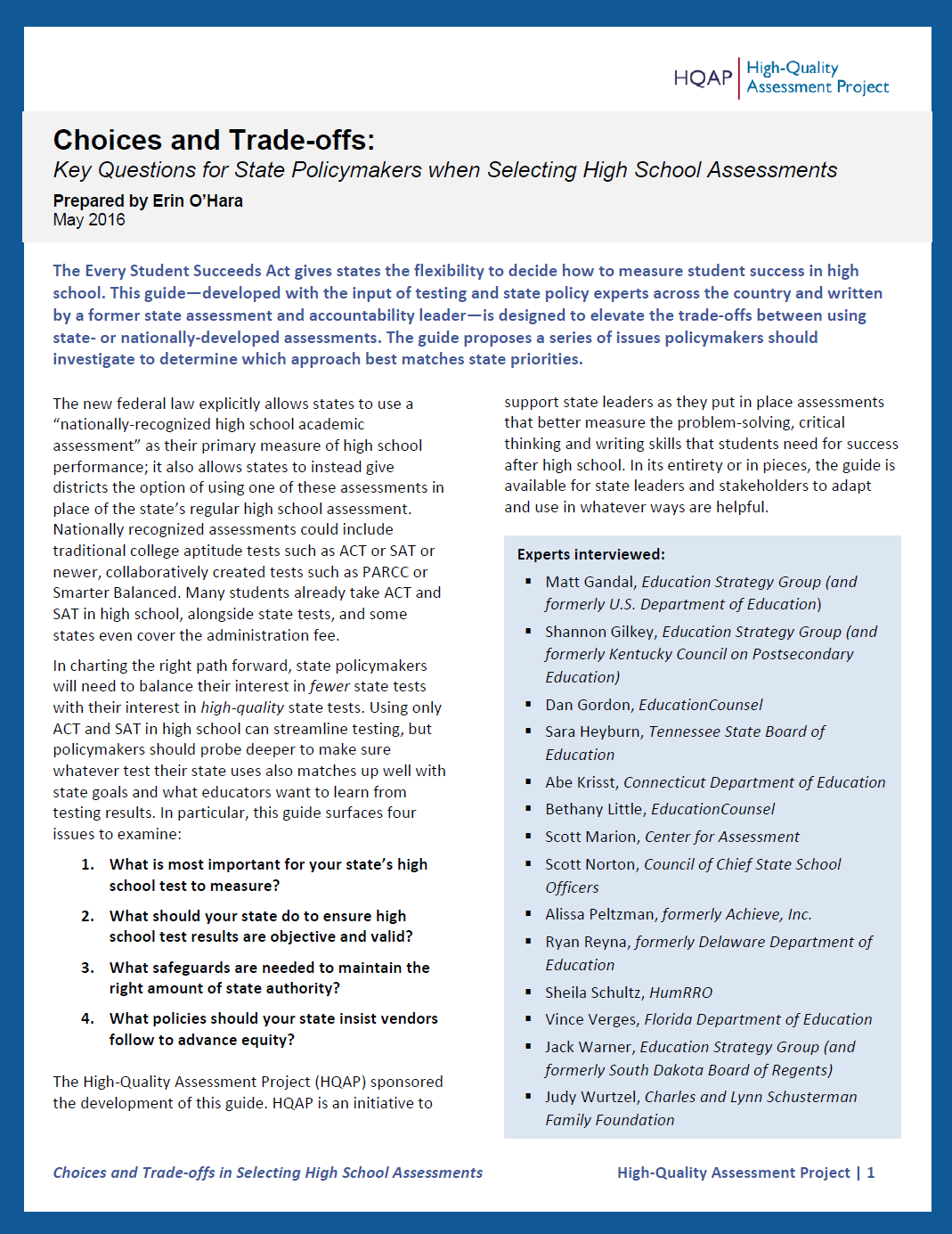 HQAP High School Assessment Guide
Browse similar resources:
You might also be interested in:
In partnership with the Walton Family Foundation, Education First developed a comprehensive "State of State...
Read more >

To prepare Washington students for success in their home state, we must improve outcomes at...
Read more >

Few states have had as exciting a journey for public education as Delaware. Fueled by...
Read more >