The National Assessment Landscape: What Does High-Quality Look Like?
Our updated primer on Common Core-aligned assessments offers policymakers, staff, education leaders and advocates reusable slides that make the case for why we need new and better tests of student learning. The primer also digs into the different testing options available to states and shows which assessments each state is currently administering or plans to administer. In this resource, we focus on why testing matters, provide an updated national map of the assessment landscape and examine each new assessment's technology requirements, accessibility features and accommodations for special populations.
We designed these slides so that readers can repurpose and share the content with their stakeholders. Users should feel free to customize the slides as needed to address state-specific questions or concerns (including moving any of the content into new documents and templates).
Read the full publication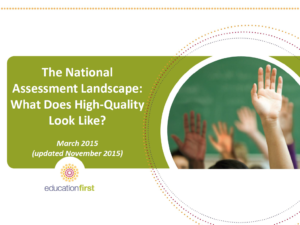 Assessment Landscape
Browse similar resources:
You might also be interested in:
In partnership with the Walton Family Foundation, Education First developed a comprehensive "State of State...
Read more >

Design thinking — which encourages a focus on users and rapid experimentation — can help...
Read more >

In 2010, 46 states joined together in two different consortia (PARCC and Smarter Balanced) to create higher-quality,...
Read more >