After a convening planned and delivered by Education First, one of the participants stopped us in the airport and said, "On the bus from the airport to the convening, everyone was on their phones, no one was talking. On the way back to the airport, everyone was chatting and bonding. That's how you know a convening did a great job building community."
For more than a decade, Education First has helped organizations realize the power of convening groups of people to learn and accomplish a common goal. We have facilitated interactions ranging from a dozen to hundreds of participants per convening. We have found that the most transformative interactions stem from a basic premise: Everyone in the room is an expert; the job as planners/facilitators is to harness the power of the group you have convened. Based on hundreds of successful convenings, Education First created our Strategic Convenings Toolkit and Coaching to help planners everywhere realize the full potential of their next convening.
Yes! I want to maximize the power of my next convening!
What you'll get with the Strategic Convenings Toolkit and Coaching.
Your coach will guide you from start to finish through our process to create excellent convenings, instead of ho-hum meetings. You will design:
Excellent convenings that:
Have clear goals and outcomes for participants, such as walking away with new learning and ideas and refined plans for action
Consist of dynamic, differentiated sessions that keep participants engaged and motivated to learn and interact with each other
Leave participants feeling reinvigorated, connected and excited about their next steps
Instead of:
Convenings that are valuable only for the networking, or feel like a meeting for meeting's sake, or leave participants wondering what was accomplished
Long stretches of "sit-and-get" sessions and "being talked at" by other experts, with little time to engage in meaningful discussions, reflect or apply the learning to your own work
Leave participants feeling overwhelmed with new information but little to no plan for follow up action
---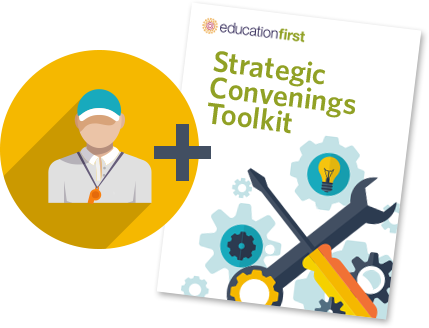 Ready to get started? Buy the Strategic Convenings Toolkit and Coaching today.
Your dedicated coach will guide you through your convening planning process from start to finish and build your expertise in convening planning.
In addition to your coach, you will get a copy of our complete Strategic Convenings Toolkit complete with:
A step-by-step guide to planning a convening or a series of convenings
Tips, tricks and troubleshooting recommendations
Templates and reusables for every phase of convening planning
Advice on continuing the learning process after your convening by creating and managing a community of practice or learning network
Yes! I want the coaching package and toolkit.
Have experience planning convenings but want to supercharge your next event? Buy the standalone Strategic Convenings Toolkit.
The Strategic Convenings Toolkit documents our step-by-step process to planning excellent convenings. Purchase the toolkit today to access all of our templates, guidance and tips to make your next convening a success!
Buy the standalone Strategic Convenings Toolkit today.
A third option: Let us plan your convening for you.
We created this toolkit to put new resources in the hands of clients who want to design and facilitate their own convenings, or have a very limited budget. However, Education First continues to stand ready to deliver the full convening design, planning and facilitation services we are known for. If capacity is stretched and you need more hands on deck, we also can take a hands-on role and execute the planning convening with and for you.
Let us create a custom project quote based on your needs. Contact our expert planners today.