A thriving education-focused organization can only achieve its mission and create its desired impact when every team member is connected, engaged and performing at the top of their game to get the organizational breakthrough results that make a positive difference for kids. The health of an organization—which lies at the intersection of the employee experience and organizational effectiveness—determines who decides to join the team and who decides to stay; how they behave and perform as individuals and teams; and on the impact you can have together as a collective.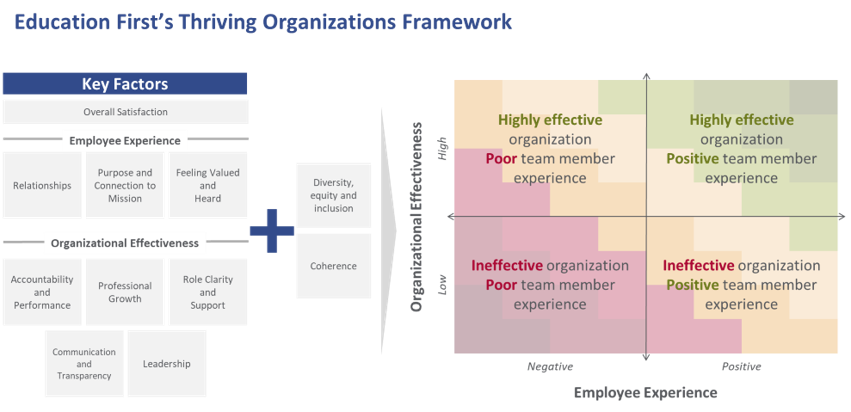 Find out more about the Thriving Organizations Profile
Thriving organizations create the impact they seek in the world; TOP can help you get there
The Thriving Organizations Profile survey helps an organization better understand what is working and what could be improved about its culture, team dynamics and effectiveness.  Specifically, our survey is designed to:
Assess staff perceptions of the employee experience, team efficacy and organizational culture

Identify areas of strength and opportunities for improvement in relation to employee satisfaction, performance and fulfillment

Identify areas of strength and opportunities for improvement in relation to the team's ability to collaborate on important organizational development and change efforts, such as the development of a strategic plan, as well as execute on those efforts
Our TOP Insights reports provide you with actionable information about your culture and effectiveness, and are designed to help you easily identify priority actions organizational leadership and staff members can take to create the culture you desire and shore up the team's ability to thrive and deliver great work.
Timeline and Administration 
Our survey question set was designed to provide a comprehensive view of your organization's health. Therefore, our recommendation is to conduct a full survey of your organization at least annually. In addition to providing you with that comprehensive view, asking the full set of questions will also allow us to, over time, provide participating organizations with benchmarking data. Each administration of the survey lasts between eight to twelve weeks from initial data collection to action planning. However, that timeline can be adjusted to accommodate extended administration windows for larger organizations or to fit within other previously scheduled events.

Interested in hearing more?