At Education First, we invest in finding and supporting unparalleled talent around the country. Our team aspires to be the most trusted and effective education consultants in the nation, and we do that by hiring and investing in the absolute best talent we can find. We offer great benefits and life-work flexibility and want you to bring your most authentic self to our work. Regardless of your title, we give everyone a voice in our strategy and decisionmaking, and strive to make this a place you're happy and proud to be part of every day. It's no wonder why 97 percent of our staff rate their colleagues as being among the best with whom they have ever worked.

In exchange for providing you with ample opportunities to shine and learn, we ask for your very best work, to push yourself to go above and beyond for clients and to truly serve them. We want every individual to contribute to the success of the firm by building deep relationships with clients and colleagues, coaching and supporting your teammates, sharing your authentic selves and voicing your ideas.
We are also committed to building our staff and broader organizational capacity to center equity in our work. We believe intentional development work must be done at three levels: 1) with individual staff on their own implicit biases and identity development; 2) at the organizational level to analyze and redesign systems that could otherwise mirror the inequities we seek to dismantle and to nurture our inclusive, vibrant culture; and 3) with our clients to ensure they focus on equity as an integral component of their work, from the stakeholders they engage in decisionmaking to the lenses they use to analyze their challenges. You can read more about our Race, Inclusion, Diversity and Equity (RIDE) strategy here.
This is the deal you agree to when you accept an offer at Education First. We provide a fun place to work, with great benefits, life-work flexibility and a culture that will help you take advantage of your individual strengths. In exchange, you must bring to work each day your best thinking and writing, your commitment to growth and helping others around you succeed, and your fun and authentic self.
Check out our Current Openings page to view available opportunities.
---
Career growth at Education First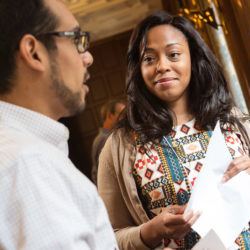 We want you to stay and be in a role that you find fulfilling and that maximizes your contributions to our firm and clients! We believe we do our best when we are focused on work that matters, are clear about what success looks like and are empowered to be ourselves each day. In practice, this means:
All employees are expected to raise their voices and offer ideas and solutions, and everyone has opportunities to stretch their skills and talents. Your title does not determine your role on a project or in the firm overall. For example, while associates typically lead research, some also manage project workstreams and work directly with clients; senior consultants and consultants might often play the role of project manager, but they can also be the project team's researcher or accountable project lead.
We insist on doing work that matters and we provide each other with the support and encouragement we need to deliver on our mission and vision. We define and support excellence for delivery to our clients through our quality deliverable rubric (which sets expectations for our writing, content and design), project exemplar library, writing guides, and our strategic planning and project methodology frameworks. Team members are required to participate in certain firmwide learning activities, such as our ongoing RIDE professional learning series and cohorts, encouraged to engage in role- and team-based professional learning communities as well as seek out external learning opportunities (e.g., online webinars) to expand and deepen their knowledge and skills. We know that much of our motivation to become smarter and sharper is due to the strong mission-driven nature of our team. In a recent survey of our team:
98% said that Ed First has a mission that is meaningful to them
90% said that my work brings me a sense of purpose
We understand what excellence looks like in our roles and we own our own growth. Professional learning and reflection is a top priority. We provide project-embedded feedback using tools such as our competency model (which defines excellence for every title in the organization), our quality rubric and our online feedback platform (which enables colleagues to provide formative feedback to each other). We develop skills in all-staff development sessions at our biannual retreats, new staff orientation and onboarding, analyst and associate team retreat and other role-alike professional learning communities. We also pair every team member with a manager who helps each person grow and succeed.
Visit our Current Openings page to view available opportunities.