Hard-working and light-hearted. Passionate about student success. Obsessed with quality and new opportunities to learn. These are just a few of the traits we encourage and cultivate at Education First. Our vibrant culture is built on our core ideals: original thinking, collaboration, entrepreneurialism, authenticity and fun.

Virtually amazing
Education First is a fantastic place to work. We strive to create a workplace that is positive, inclusive and equitable, and is worth going to every day. With team members in more than 20 states, we work from home and we collaborate constantly. Our vibrant culture is built on our genuine care for the students we serve, our clients and each other.
We encourage every team member to bring their most authentic self to our work. We welcome and challenge one another to bring our authentic selves to work each day because we believe it produces better results for our clients, for our team culture and for our individuals.
A day in the life of our firm
There is no typical day: Our team members have the freedom and the flexibility to determine the work schedule that will enable them to sustainably deliver high-quality work to their clients and collaborate with their colleagues. Some days that means working from a home office, while other days it means setting up in a coffee shop or preparing for a client meeting during a cross-country flight (when it's safe to do so). In our virtual environment, Ed Firsters manage their own time based on project needs and in collaboration with project teams.
A sample week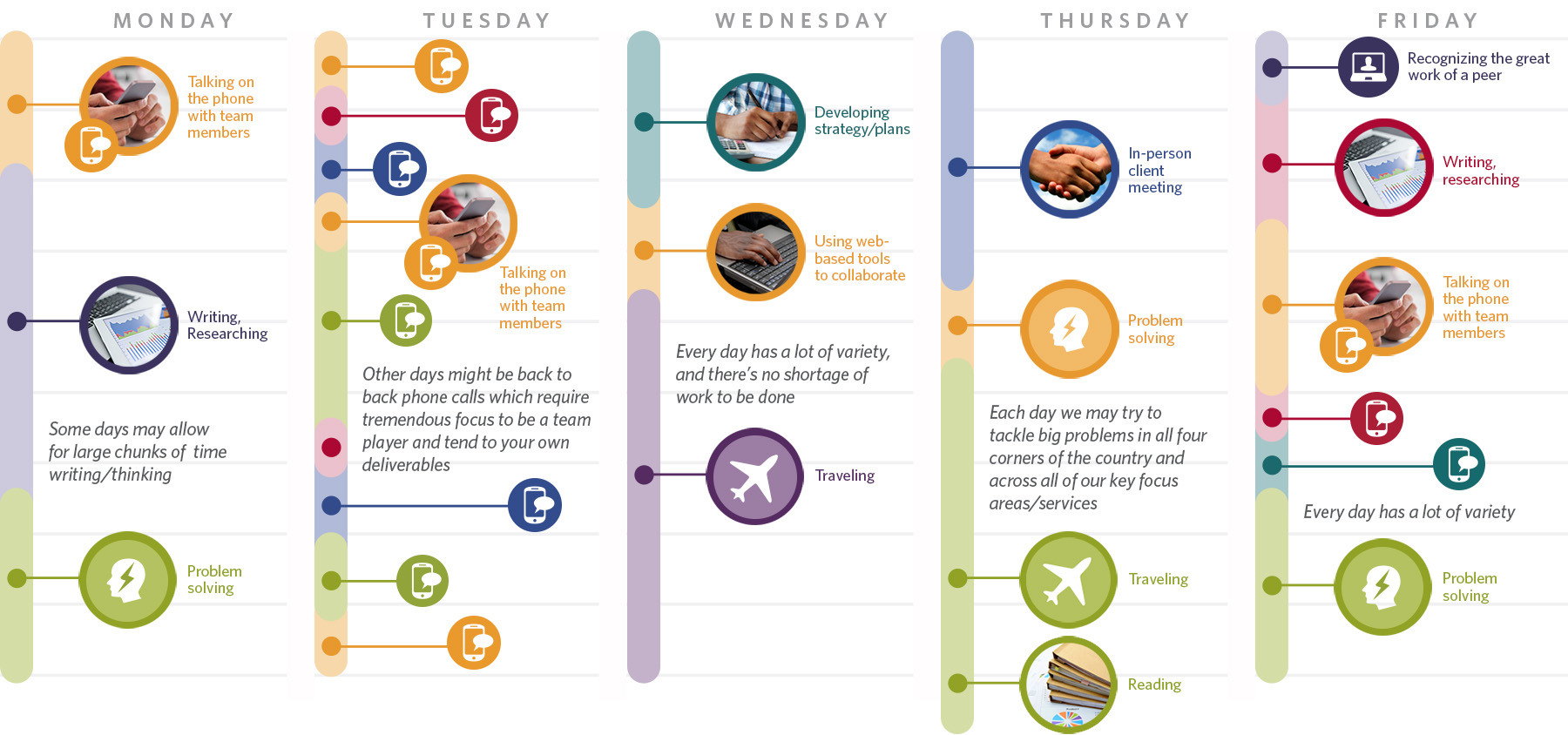 Our day-to-day focus
How can we help our district/school leader clients build stronger systems to provide educators with more targeted and actionable feedback and support?
What strategic investments can we recommend to our funder clients that empower state and local leaders to identify and implement high-quality curriculum and assessments?
How can we help our nonprofit clients build a strategic plan that addresses immediate needs and ensures long-term growth and sustainability?
Dynamic work environment
Every day has a lot of variety, brings new and different challenges and there's no shortage of work to be done.
We don't have static teams. We work with a variety of Ed First colleagues on multiple types of projects and our role isn't always the same on all of those projects.
We're constantly connected to others even though we are in our home offices.
Our Teams
Our firm is organized by specialized focus areas that we call Home Teams: Engaged Students, Effective Organizations and Investments, Outstanding Educators and the Internal Team.
Our consulting team is organized by focus area, though home teams often collaborate to best meet the needs of our clients:
The Engaged Students Team leads Coherent Instructional, Assessment and Accountability Systems; Innovative Systems and Schools; and Social, Emotional and Academic Development.
The Effective Organizations and Investments Team leads Talent Strategy and Culture and Postsecondary Success.
The Outstanding Educators Team leads Educator Diversity, Preparation and Development.
Our organization's internal strategy and operations are driven by the Internal Team, who focuses on system-wide supports, analytics, reporting and daily business functions.
More about our culture:
Cristina Muñoz

"When I taught, my students committed to reach a high bar. I've found similar dedication to growth at Ed First. We partner with a colleague for ongoing support, build skills through PLCs and learn from one another at our retreats. I have never gained more practical and professional experience than I have from working with this exceptional group."

Anand Vaishnav

"I define my work as building capacity. Whether launching a nonprofit, working with districts on developing teachers, or helping states plan for the future, my work centers on enabling their success. We take their starting point and push them to think deeper to help those they serve and accomplish great things after working with us."

Bill Horwath

"Ed First has been very intentional about creating a tight connection among staff despite spanning dozens of zip codes. I never hesitate to pick up the phone or use our online tools to collaborate with colleagues. And when we're together in person, we make the most of the 'face time' to strengthen those personal and professional connections."

Jenn Vranek

"I founded Ed First on the values I believe in: where colleagues are friends, have fun, are authentic, avoid hierarchy for its own sake, promote creativity, take risks, strive for excellence, and seek meaning in our personal and professional lives. Each of us at Ed First lives these values every day. I think we've created something truly special."

Kelly James

"In a virtual community you mostly 'meet' people on the phone and recognize them first by voice. It requires extra effort to learn about your colleagues as individuals. Ed First emphasizes that each one of us bring all that we are to our work. As a result, it pushes me to understand all aspects of diversity that help us better serve our clients."
Intrigued? Learn more about careers and current opportunities.